"Goat! Goat!"
"No, honey, that's Grandma."
Right off the bat, I'll be the first to say that headline isn't entirely accurate because Kim Kardashian's Paris robbery started being milked the second it hit CNN. The CNN. From that point on, it became Kris Jenner's magnum opus of publicity: Presidential-level security, talks about the show being cancelled, Kim's social media hiatus, Kanye's breakdown, and divorce rumors running right smack into the holidays. Hell, Kris might've even orchestrated the dust-up with Jay Z and Beyonce because in case I haven't said this in every single post: Kris Jenner is the goddamn Devil.
Now, let me just pause for a second and say that I believe something happened to Kim Kardashian in Paris even though there've been no arrests and it's crazy hard to fathom how someone managed to catch Kim during the one possible second she's not surrounded by a small army of make-up artists and cameras. That said, if she was caught alone by a group of men – armed or not – that is some terrifying shit for a woman to go through even if I don't respect her as a human being and am about to go to town on how's she milking all of this for fame and fortune. Which is especially rich considering the new narrative that she's totally changed, you guys, and is like super-focused on her family now. Hence her recent return to Instagram with stark, less flashy photos of her kids that look like slides from a murder victim in the 1970s.
Anyway, earlier this week, Kim Snapchatted her first selfie since the robbery and surprisingly showed her face in public. She also returned to Twitter where she dropped "West" from her name to get everyone talking and then switched it back because the shit is on. Two months is way too long to be in the wilderness. And by wilderness I mean not manipulating an army of rubes into watching you talk to your sisters between excruciatingly long bites of salad that the CIA should use to interrogate terrorists. Because just yesterday, E! released a promo for the new season of Keeping Up With The Kardashians, and surprise, it's Kim crying about the robbery even though she is, like, so private RN:
Kim Kardashian is breaking her silence on her horrific Paris robbery.
In an exclusive promo from the upcoming season of Keeping Up With the Kardashians, which returns to E! in March, the 36-year-old mogul opens up to sisters Khloe Kardashian and Kourtney Kardashian about the scary experience.
"They're going to shoot me in the back," she says in tears, recalling the incident. "There's no way out. It makes me so upset to think about it."
Considering there's clearly footage already in the can, let me spell it out for people who aren't familiar how TV works:
KIM HAS BEEN FILMING THE SHOW THE ENTIRE TIME.
She wasn't "focusing on her kids" or "changing her priorities." Kim Kardashian was doing what Kim Kardashian does the whole time. Except I don't know why I'm wasting my breath pointing this out because, with no small thanks to the Kardashians, we increasingly live in a world where reality doesn't matter anymore and whatever some idiot says on Twitter is true. Case in point: This Orange Bidet of Lies is going to be our fucking president.
Having a good relationship with Russia is a good thing, not a bad thing. Only "stupid" people, or fools, would think that it is bad! We…..

— Donald J. Trump (@realDonaldTrump) January 7, 2017
have enough problems around the world without yet another one. When I am President, Russia will respect us far more than they do now and….

— Donald J. Trump (@realDonaldTrump) January 7, 2017
both countries will, perhaps, work together to solve some of the many great and pressing problems and issues of the WORLD!

— Donald J. Trump (@realDonaldTrump) January 7, 2017
Jesus Christ, the only thing missing from that rant is something about tiger blood and an "I Heart Putin" emoji. And if you're wondering how the hell I turned an indictment of Kim Kardashian's bullshit into a post about Trump, simple: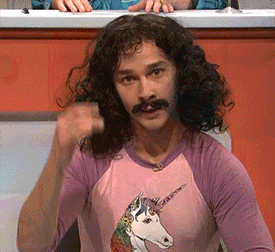 (This is what happens when I post on a Saturday. You'll live.)
THE SUPERFICIAL | About • Facebook • Twitter
Photo: Instagram